Validation of manufacturability for SMC and LFT compression molding

Optimization of process parameters and initial charge position

Reliable prediction of fiber orientation based on advanced flow models

Prediction and export of manufacturing effects for subsequent simulation steps

Compression molding of sheet molding compound (SMC) and long fiber-reinforced thermoplastics (LFT) are among the most relevant manufacturing processes for long fiber-reinforced plastics (DiCoFRP).
These processes, however, might be accompanied by a partly filled cavity. Moreover, flow-driven effects like a change in fiber orientation are inevitable. Therefore, it is most beneficial to predict those manufacturing effects in an early phase of product and process development.
SIMUTENCE is specialized in advanced methods for the virtual design of fiber-reinforced composites and hybrids, including the supply of process simulation methods for DiCoFRP. SimuFill is supplied as a software add-on, making the established finite element software Abaqus ready to be applied to advanced process simulation of DiCoFRP.
SimuFill covers all required steps to run and evaluate a compression molding simulation. The only thing you need to use SimuFill is a license and working knowledge for Abaqus.
Beginning with preprocessing, CAD or pre-meshed data of the tools are imported, the cavity is meshed, and fiber orientation distribution of the initial charge is assigned by SimuFill plugins for Abaqus/CAE. This results in a complete compression molding simulation model ready for analysis.
The compression molding analysis is run by Abaqus/Explicit in combination with advanced methods for flow and fiber orientation modeling supplied as SimuFill user-subroutines.
Finally, the results are evaluated by the user. To support this step, SimuFill supplies plugins for the export of manufacturing effects, such as fiber orientation distribution after molding.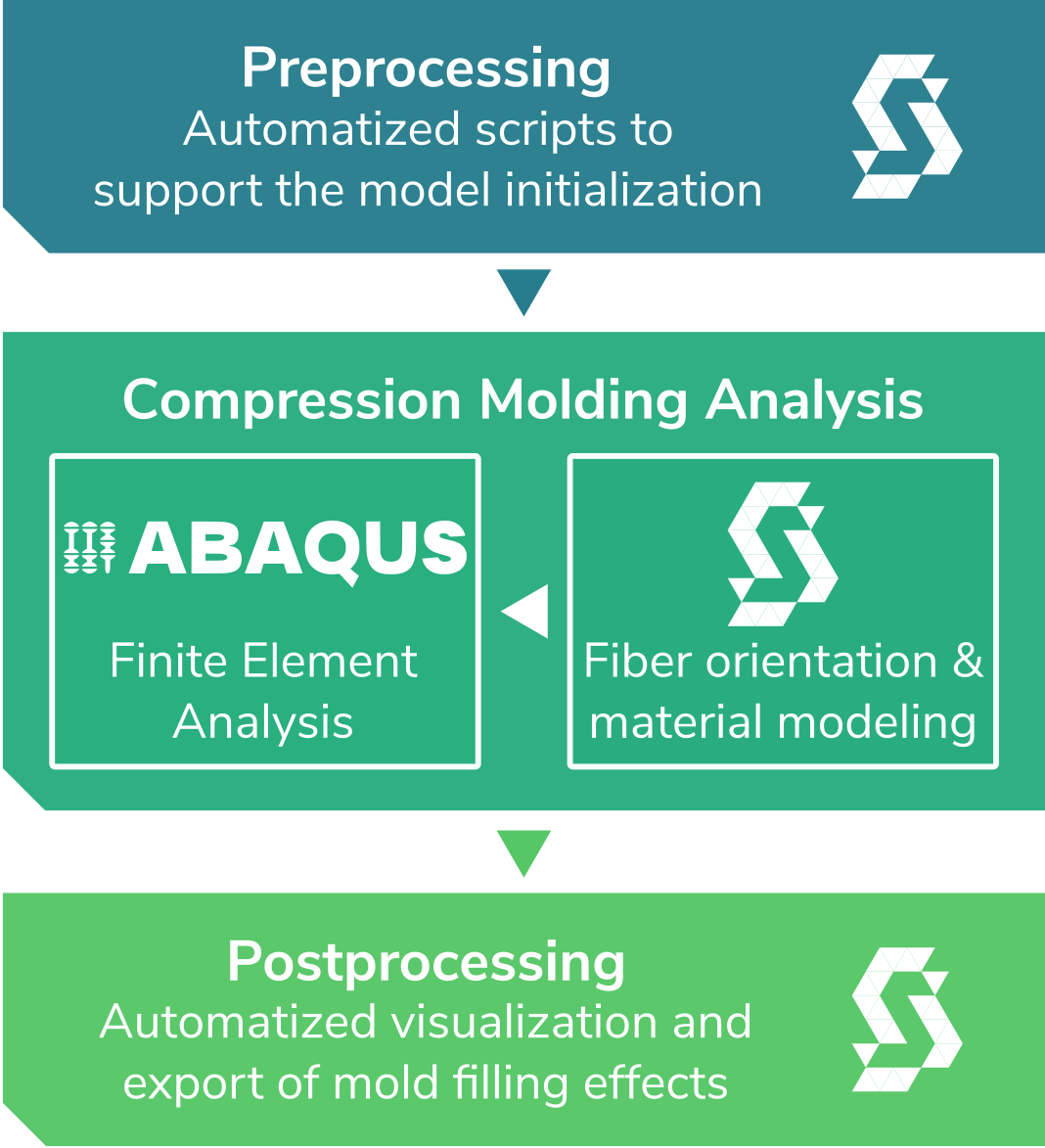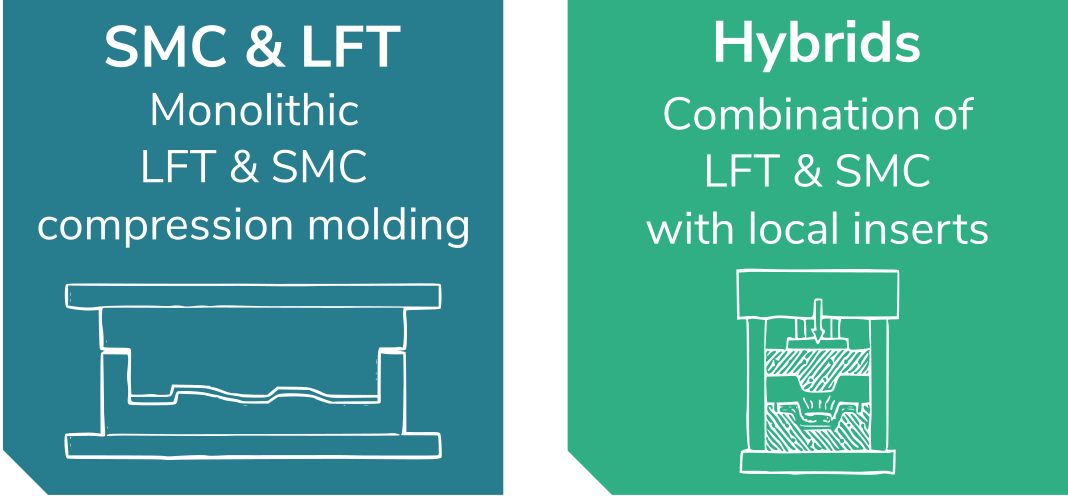 The materials relevant for large-scale production are supported by SimuFill, ranging from Class-A to semi-structural applications, as well as from glass to carbon fiber SMC materials. Furthermore, thermoplastic compression molding (LFT) simulations for relevant materials are supported. In both cases, hybrid processes including the interactions with metallic or fiber-reinforced inserts can be predicted.
Material Characterization
Applying close-to-process material characterization is key for SMC process simulation. Therefore, a characterization process based on a customized plaque tool equipped with special sensors is employed by SIMUTENCE.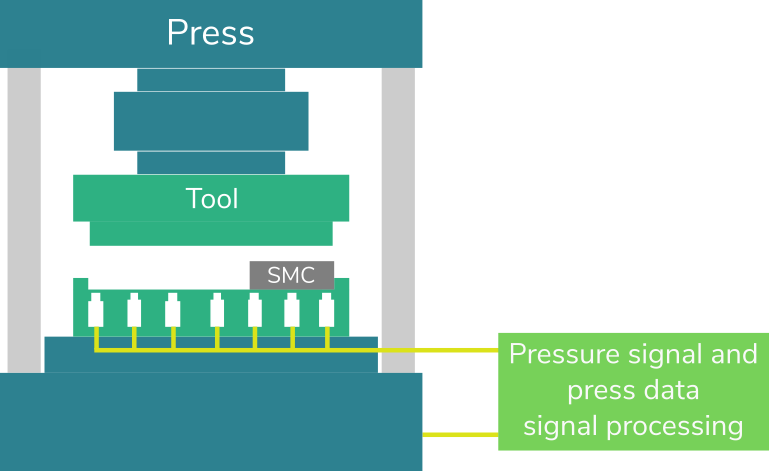 Validation and References
Our methods are tested and validated for geometries with relevant complexity and size, which was shown in several reference projects.
J. Görthofer et al.: "Virtual process chain of sheet molding compound: Development, validation and perspectives", Composites Part B, 2019.
M. Hohberg: "Experimental investigation and process simulation of the compression molding process of Sheet Molding Compound (SMC) with local reinforcements", KITopen, 2019.
Do not hesitate to get in contact with us. We are pleased if you leave us a message!