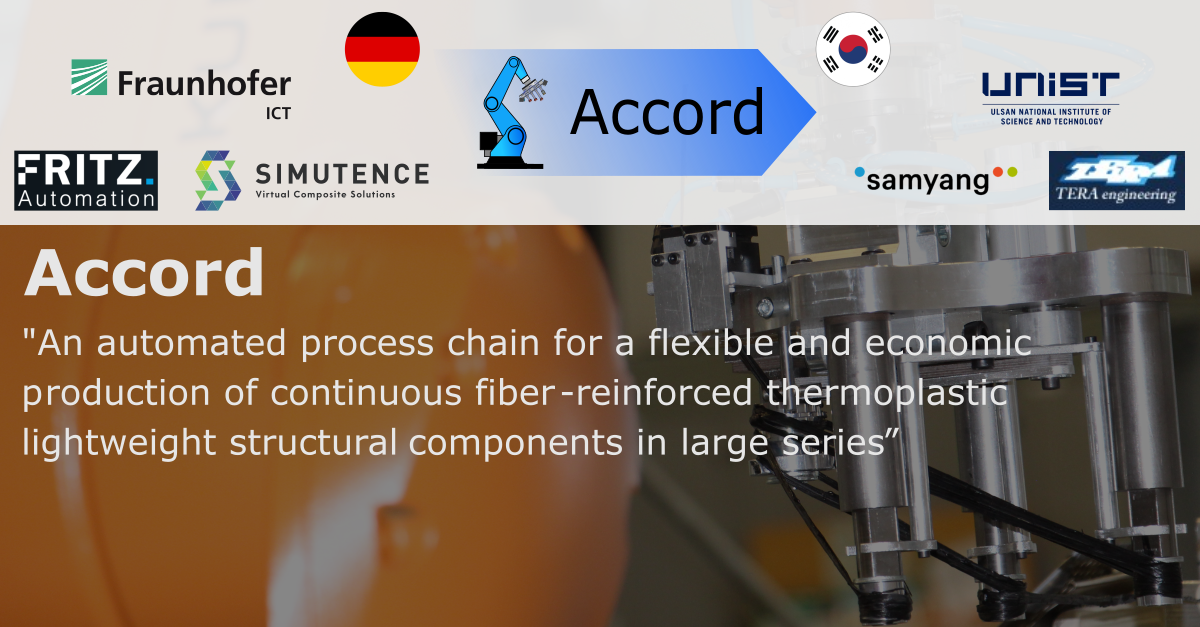 A Korean-German consortium started working on a publicly funded project called Accord for the next three years (7th German-Korean joint R&D projects by Small and Medium-sized Enterprises – ZIM Korea). The Accord project team will work on the industrialization of process and simulation techniques for the 3D skeleton winding process (3DSW). The aim of this research project is to develop, manufacture and commission a fully automated process line on an industrial pilot scale for the robot-based production of thermoplastic structural components using complex continuous fiber reinforcement structures. This novel manufacturing technology is to be applied to a large-series structural vehicle component previously made of metal, which is being fundamentally redesigned for this purpose. High-volume cycle times and consistently high component quality will be ensured by a high degree of automation. This offers the possibility to manufacture structural components with high lightweight potentials for high-volume applications at competitive component costs. The project is divided into the development areas of material development, simulation & component design, process development, as well as process and component validation.
The Korean project partners Tera Engineering, Ulsan National Institute of Science and Technology (UNIST), and Samyang Corporation are covering the material development as well as the demonstrator component validation. On the German side SIMUTENCE, Fritz Automation, and Fraunhofer ICT are working on the component and process simulation as well as on the process development and validation. In this context, SIMUTENCE focuses on the development of methods to optimize the position and size of the 3D winding structure as well as on the simulation of the overmolding process. Fraunhofer ICT is providing the 3DSW process know-how and is covering the process validation for the demonstrator component. Furthermore, Fraunhofer ICT is also involved in the development of a microwave-based heating system for processing thermoplastic commingled yarn materials in the automated 3DSW process. Fritz Automation develops all necessary system components for the 3DSW process automation and is responsible for the process integration of the automation components as well as for the setup of the newly developed pilot process line.
Additionally, the project is accompanied by an international advisory board consisting of Hyundai Motor Company, Hwashin CO., Ltd., Boge Rubber & Plastics Group, J. Schmalz GmbH, and Comfil ApS. The funding of the project by the BMWi (Federal Ministry for Economic Affairs and Energy) is gratefully acknowledged.
Stay tuned for updates!