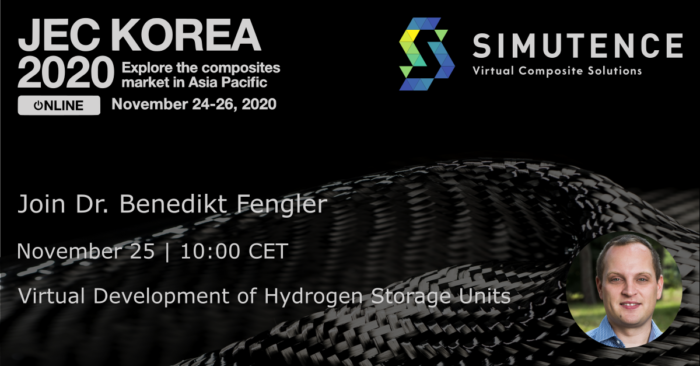 JEC Korea will gather companies from the entire composites value chain to showcase their latest capabilities and innovations to strategic end-users market such as automotive, aeronautics, renewable energies, building & construction, electrical & electronic equipment (EEE) as well as sports & leisure.
SIMUNTECE will be part of the show!
Our co-founder Dr. Benedikt Fengler will give a presentation on the Virtual Development of Hydrogen Storage Units on November 25, 2020, at 10:00 CET.
Hydrogen fuel cells play a key role in future mobility concepts, particularly for automotive and aerospace applications. In this regard, lightweight concepts are of high interest to optimize the maximum driving or flying range. For hydrogen storage in automotive applications, the most promising approach in terms of lightweight concepts is the so-called type-4 design. This design consists of a plastic liner, in combination with carbon fiber-reinforced layers. Additionally, the outer layers are made from a glass fiber-reinforced composite material, adding additional damage tolerance. To efficiently achieve a design optimized for manufacturing as well as for structural performance, a virtual analysis of the manufacturing processes and the structural behavior is required. This challenge can be met through the developments in the context of Industry 4.0 using a continuous and functional virtual process chain, which includes a digital twin of production processes employing process simulation.
Benedikt's presentation proposes an efficient approach for the product and process design of hydrogen storage solutions through a virtual process chain. The approach presented starts with a winding simulation. Here, the resulting fiber orientation is predicted and an optimized manufacturing concept, in terms of cycle time and fiber orientations, is developed. Subsequently, the manufacturing effects are transferred to a structural simulation model, to accurately validate the part performance. Related material cards are generated from micromechanical analyses to prevent any real-world coupon material testing. The virtual process chain will be demonstrated for an exemplary type-4 pressure vessel.
Register now and listen to his talk!