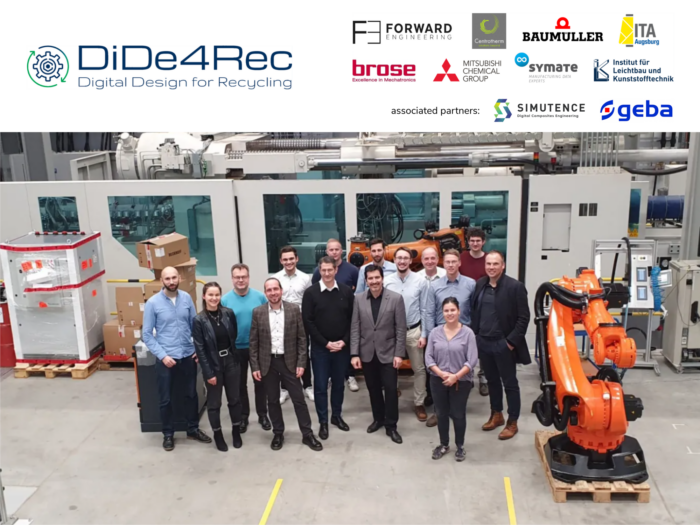 In the sense of an environmentally compatible economy, we have to develop products in such a way that the possibilities at the end of life are considered from the beginning, regardless of whether it is recycling or reuse. A research project called DiDe4Rec (=Digital Design for Recycling) was launched at the end of January.
The project aims to develop and validate a holistic development approach for recyclable lightweight products based on fiber-reinforced polymers. In addition to technical specifications and the economic environment, product developers can thus also take into account the ecological dimension of recyclability as early as the design process. However, this requires knowledge of the cross-life cycle relationships between processing, use, reprocessing, and reuse of the materials.
The researchers in the project will work on this core aspect of "Design for Recycling" by digitally providing and analyzing material, process, and environmental information. Thus, in addition to the actual "Design for Recycling", the focus is on describing the product and quality parameters as well as their change through the corresponding process design and the associated data acquisition.
The project consortium of eight partners from science and industry is coordinated by Forward Engineering GmbH. Other partners are the Baumüller Group, Brose Fahrzeugteile SE & Co. KG, Mitsubishi Chemical Advanced Materials GmbH, Centrotherm Systemtechnik GmbH, Symate GmbH and the Institut für Textiltechnik Augsburg gGmbH. The project is supported by VDMA e.V. AG Hybride Leichtbau Technologien, Geba Kunststoffcompounds GmbH, Simutence GmbH, and the Fraunhofer Institute for Chemical Technology.
Within the scope of the project, the approach will be developed and validated for the two process chains of thermoforming and injection molding of lightweight products. Simutence will support the DiDe4Rec project with the simulation of the thermoforming process.
Any questions? Do not hesitate to reach out!