Product development with
composites and hybrids

Virtual validation and optimization
of manufacturability

Design optimization for
innovative lightweight solutions

Composite-specific redesign
of existing parts or assemblies

Innovative lightweight design requires the smart combination of large-scale process technologies, high-performance materials, and advanced methods for Virtual Design. SIMUTENCE is specialized in advanced methods for the Virtual Design of fiber-reinforced composites and hybrids, offering independent engineering services.
We support product developments as a service by making use of our Virtual Process Chain. This enables us to generate a Digital Twin of the part to be developed and manufactured. Based on this, product design, engineering, and manufacturing validation are closely connected. Furthermore, manufacturing validation is available already in early development phases, which can prevent the significant expenditure of time and costs during real-world manufacturing piloting and validation.
Virtual Product Development
Virtual product development for us includes the generation of a Digital Twin. For this purpose, our Virtual Process Chain predicts and retains information on the part's properties. This includes the numerical design optimization for new concepts, process simulation for validation of manufacturability and manufacturing effects, warpage simulation to guarantee dimensional stability, and structural simulation to ensure the required part performance. Thereby, arbitrary software packages can be plugged in, employing neutral exchange formats.
Upon request, we develop products from the initial idea to the final design. If required, we also support with single steps of our Virtual Process Chain. In doing so, we rely on our long-year expertise in the field of design, numerical optimization, and simulation.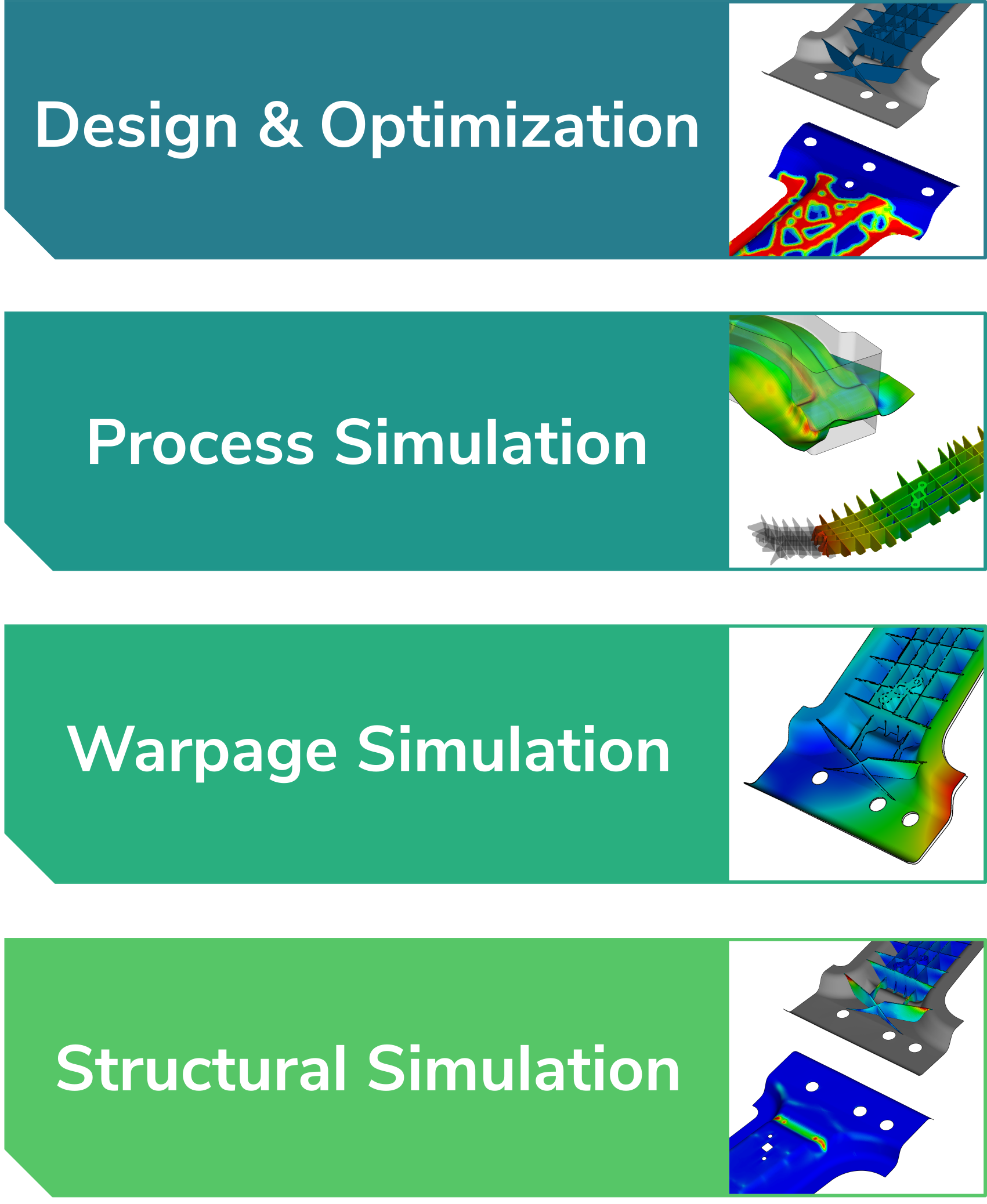 Focused Process Technologies
We cover process technologies for plastics, fiber-reinforced composites, and hybrids relevant to large-scale production. To do so, we rely on a mixture of state-of-the-art and self-developed simulation approaches, where the state-of-the-art is not sufficient for the virtual design of manufacturing processes.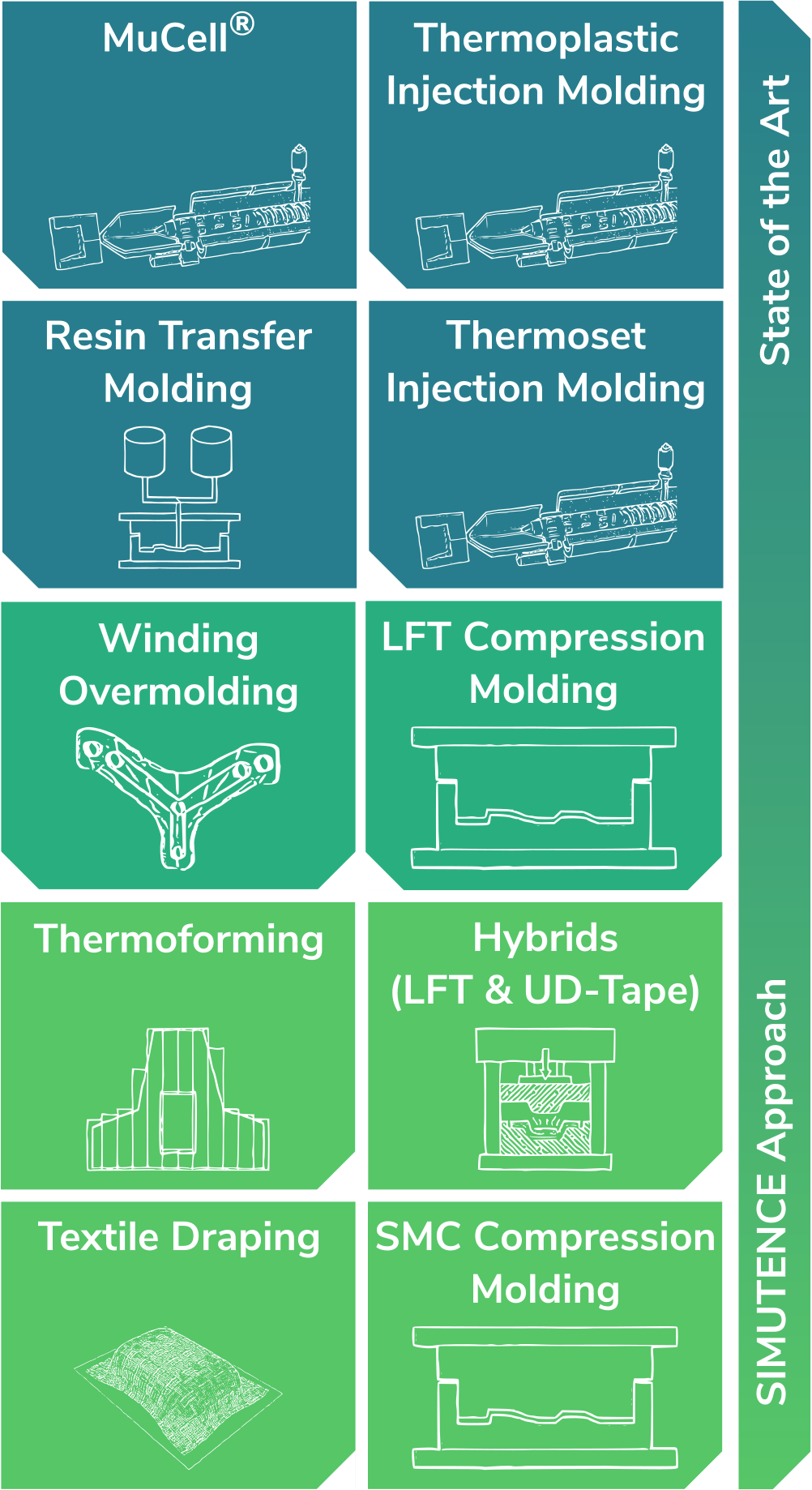 Your Project with SIMUTENCE
The following scheme provides an overview of how your possible project with SIMUTENCE could look like. We are happy to provide a project schedule tailored to your challenges, which can include the whole or single steps of the product development value stream.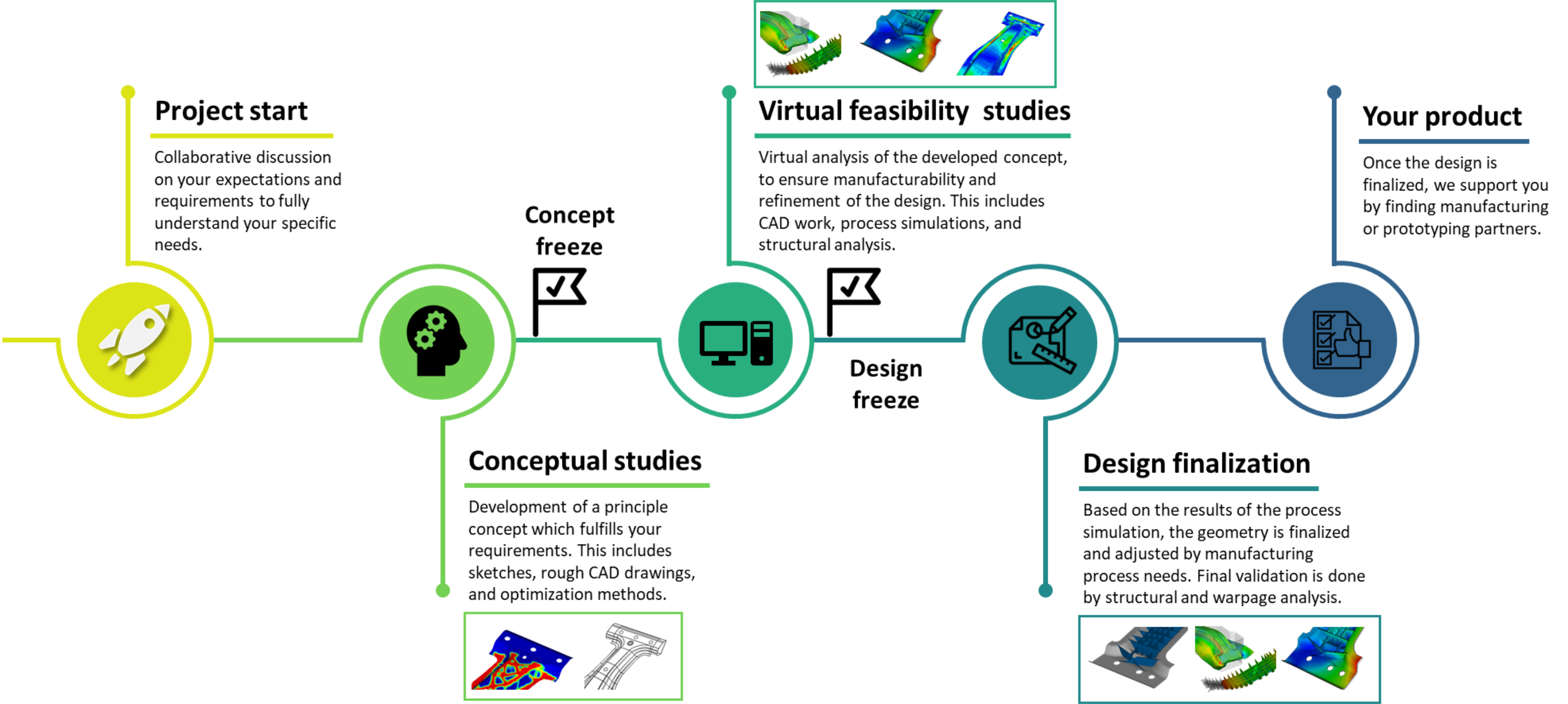 Do not hesitate to get in contact with us. We are pleased if you leave us a message!